Psicología Interamericana / Interamerican Psychology 110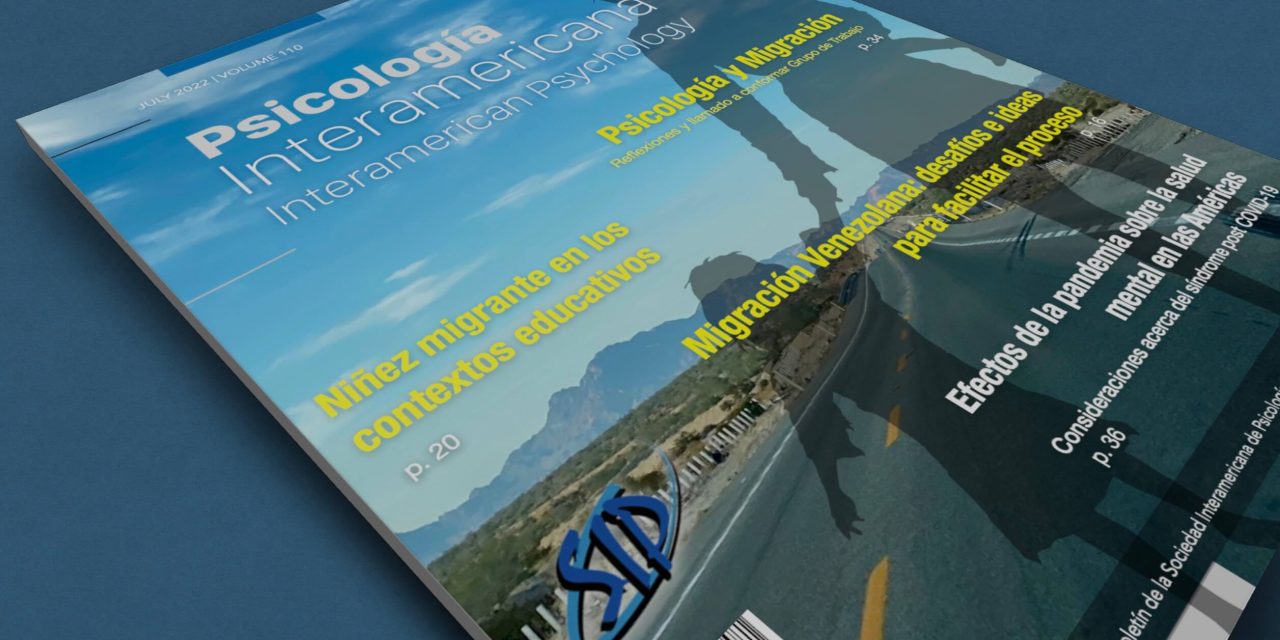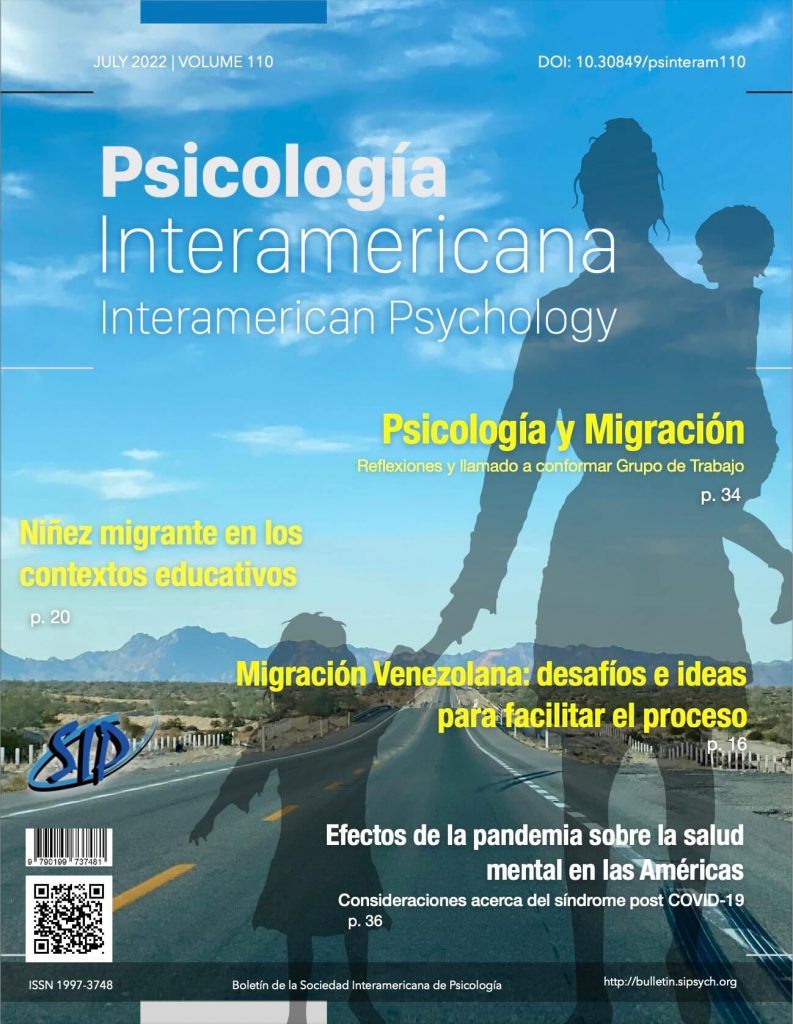 El 14 de enero de este año se aprobó de manera unánime por parte de la Mesa Directiva de la SIP que el boletín retomara el nombre de: Psicología Interamericana/Interamerican Psychology. El número 110 del boletín de la SIP oficialmente retoma este nombre. Con este número también inauguramos un número doi para el conjunto del boletín. Si bien desde el número pasado (109) la versión web del boletín está disponible, la edición que ahora presentamos (110) es la primera que ocurre de forma simultánea. Sirva esta nota para dejar constancia en la historia y avances de la Sociedad Interamericana de Psicología
.
Todos nuestros números en PDF, desde febrero de 1975, pueden ser descargados de aquí.
Descarga el número 110 completo en PDF. ISSN 1997-3748 | doi: 10.30849/psinteram110
Tabla de contenidos
Carta del presidente
Migración, una mirada desde la Psicología
Breves
Antecedents of Career success of African Migrant Workers in Europe
Antecedentes del éxito carrera de los trabajadores migrantes africanos en Europa
Estrés laboral: ¿qué es? ¿cómo medirlo ¿cómo intervenir?
Job stress: what is it, how to measure it, how to intervene?
Salud emocional para mujeres migrantes
Emotional health for migrant women
Impacto psicosocial de las empresa
Psycho-social impact of companies
Migración interna y acompañamiento psicosocial
Convenios SIP
SIP y ALAPCCO: Una nueva colaboración
Participaciones SIP
First Annual Excellence in Psychology Conference
Mundo Sip
Grupos de Trabajo
Rutas para pensar lo comunitario
Voces de la membresía
Migración Venezolana: desafíos e ideas para facilitar el proceso
Venezuelan Migration: challenges and ideas to facilitate the process
Niñez migrante en los contextos educativos
Experiencia transnacional Interinstitucional en estudios de migración
Inter-institutional transnational experience in migration studies
Gen de receptor dopaminérgico y sus efectos en el comportamiento migratorio
Dopaminergic receptor gene and its effects on migratory behavior
NOTA DE ALERTA
Salud mental y síndrome post COVID-19 en las Américas
REPORTAJES ESPECIALES
Orientación y atención psicológica ante el accidente en el Hotel Saratoga
RESEÑAS Y NOVEDADES EDITORIALES
Subjetividad: Teoría, epistemología y método
ORGULLO COMPARTIDO
Distinciones a socias y socios de la SIP
OBITUARIO