PSICOLOGÍA INTERAMERICANA / INTERAMERICAN PSYCHOLOGY 111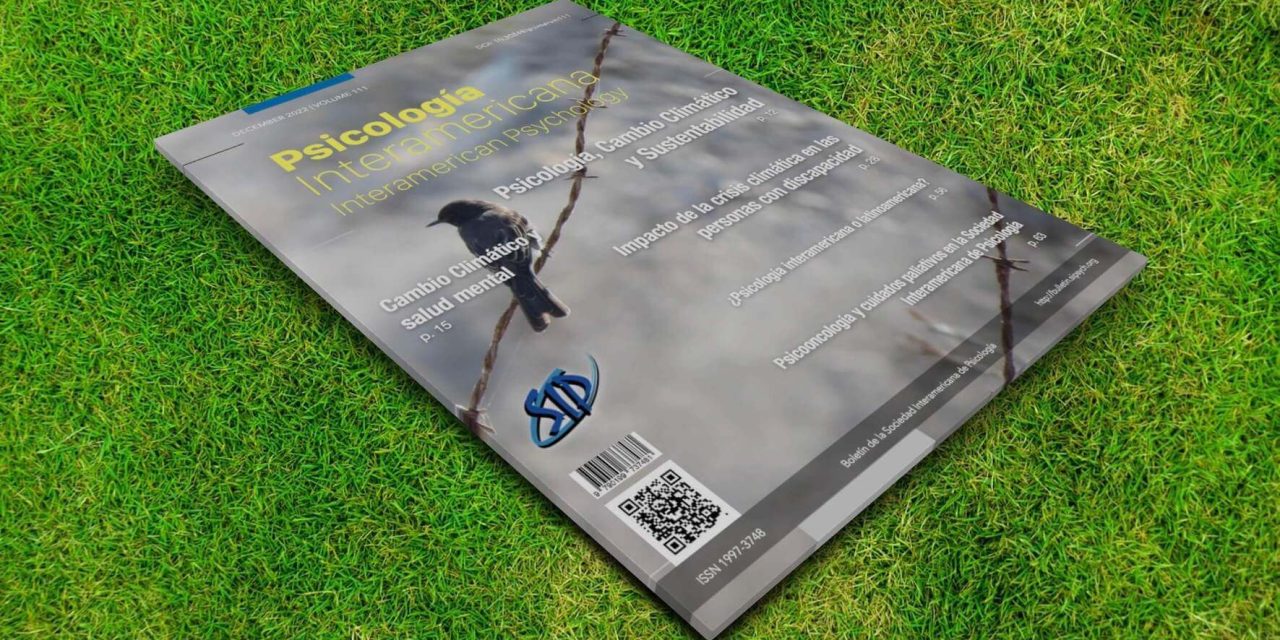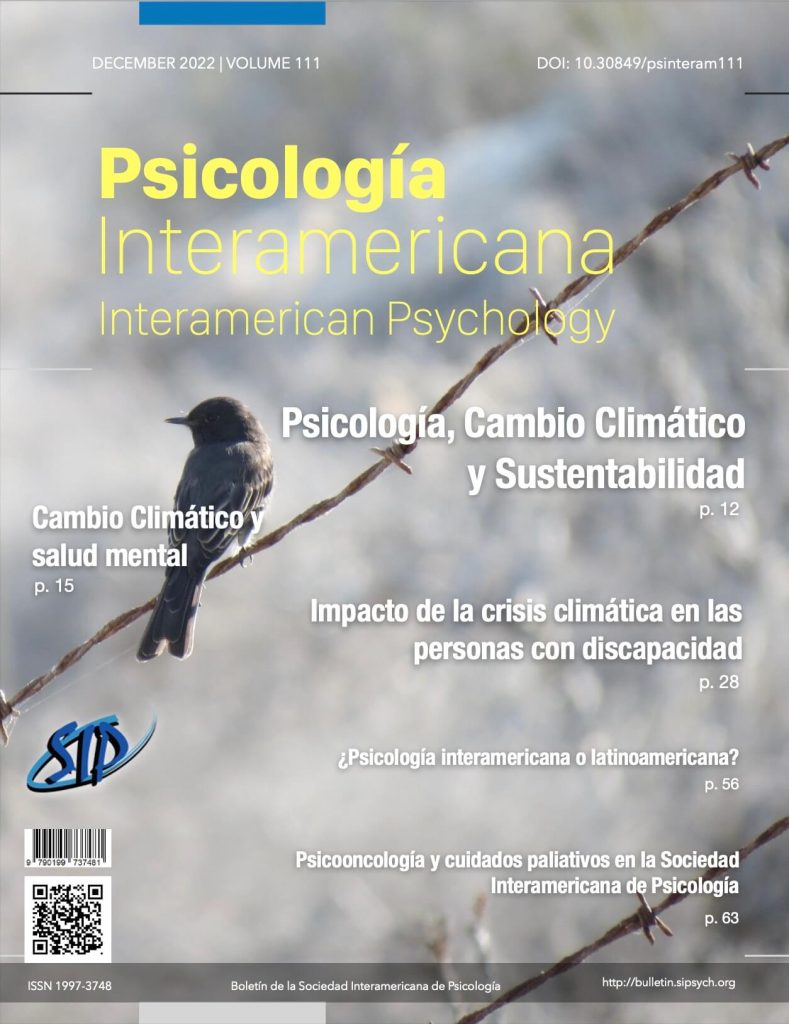 El 14 de enero de 2022 se aprobó de manera unánime por parte de la Mesa Directiva de la SIP que el boletín retomara el nombre de: Psicología Interamericana/Interamerican Psychology. A partir del número pasado (110) del boletín de la SIP oficialmente retoma este nombre. El presente número (111) tiene tiene como principal temática la relación entre cambio climático y Psicología. Por supuesto, también aborda otros temas de suma importancia para nuestras disciplina. De igual manera destaca el trabajo de nuestra membresía en sus diversas secciones, bajo una mirada diversa y amplia.
Todos nuestros números en PDF, desde febrero de 1975, pueden ser descargados de aquí.
TABLA DE CONTENIDOS
Carta del presidente
Avances en iniciativas y buenos augurios
Breves
¿Cómo influyen la perspectiva temporal y la edad sobre el autocontrol?
How do time perspective and age influence self-control?
Intervención… vía internet para atender ansiedad, depresión y estrés post-trauma
Intervention via the Internet to treat anxiety, depression and post- trauma stress
Desarrollo de una Escala de Breve de Venganza
Development of a Brief Scale of Revenge based on a Three-Dimensional Model
Cierre cognitivo y adhesión a la ideología del rol de género
Cognitive closure and adherence to gender role ideology
Factores protectores de la salud mental en población mexicana
Protective factors of mental health in Mexican population
Psicología Ambiental: experiencias, diálogos y perspectivas académicas… investigación
Environmental Psychology: experiences… academic research perspectives
Mundo Sip
Artículo de portada
Psicología, Cambio Climático y Sustentabilidad
Voces de la membresía
Cambio Climático y salud mental
Climate change and mental health
Resiliencia comunitaria de la población adulta mayor ante el cambio climático
Cambio Climático y Psicología: Reflexiones desde Ecuador
Impacto de la crisis climática en las personas con discapacidad
Impact of the climate crisis on people with disabilities
Análisis de los riesgos psicosociales para las gestantes y lactantes trabajadoras
Plebiscito en chile: Análisis desde un nuevo paradigma emergente en la ciencia
Psicología evolucionista de las fortalezas del carácter: un área pendiente
La psicología infantil en redes sociales. ¿Cómo generar contenido de valor?
Daño psíquico y trans-identidades
¿Psicología interamericana o latinoamericana
Grupos de Trabajo
Participación del GT Derechos, Discapacidad y Enfermedades Raras en el Congreso Regional de Chile
Comunicado especial del GT Derechos, Discapacidad y Enfermedades Raras
Discapacidad en Primera Persona
Iniciativas
Psicooncología y cuidados paliativos en la sociedad interamericana de psicología
ORGULLO COMPARTIDO
Distinciones a socias y socios de la SIP
OBITUARIO
De luto la psicología caribeña y latinoamericana por el deceso de Gloria Fariñas León
doi: 10.30849/psinteram111 | Descarga el número completo en PDF de aquí (Próximamente)